Fresh broad beans soon available
---
---
---
For a few days now, it seems that the cold weather has officially left our region. The sun is shining on the fields of the farm and beating timidly on the walls of the greenhouses. Scents and colours seem more intense than ever. Now, for example, we see our fresh broad beans flourishing again, almost ready to offer us their precious fruit.
It's no use going round and round: spring is announcing itself prematurely in Liguria. For us farmers, this means preparing for the seasonality of fruit and vegetables, the natural cycle of the earth.
Read also  -  Seasonality of fruit and vegetables: a secret thousands of years old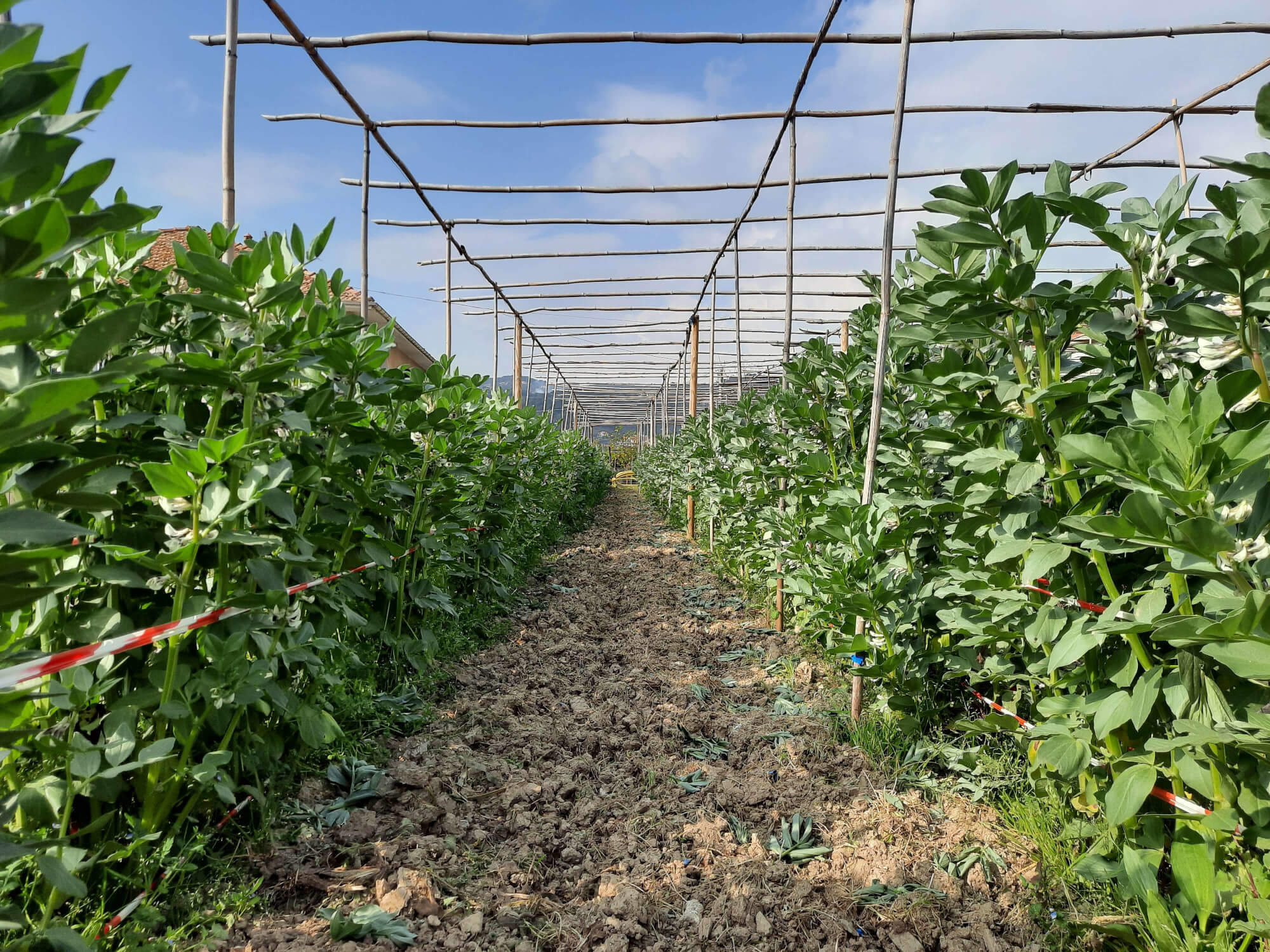 Broad beans are almost ready for harvesting
The most complex time of the year for us is beginning. With good weather, in fact, agricultural production  increases and we start to take the first reservations of the apartments for the summer season. This naturally means more work, but also more satisfaction.
Such as the view of our flowering broad bean plants, which grow thicker between the rows of our fields. This year we have decided to make a few improvements to the cultivation process. First of all, we drove the tractor into the furrows to loosen up the soil better and then we weeded, which, unlike with the artichokes, was done mechanically. Finally, we tried to prevent the plants from bending too much, due to the natural flexibility of the stem, by holding them in place with special plastic bands. These will also help to ensure that the beans grow taller, making harvesting easier.
Read also  -  How to remove weeds from artichokes
A walk through the rows in one of our broad bean fields, where you can see how tall the plants are and how their stems are held in place by plastic bands. This will prevent them from bending or, even worse, breaking.
All in all, we have preferred to organise the broad bean plot in a more orderly manner, so that we can move comfortably between rows. This not only results in a better aesthetic appearance, but above all in an increase in their yield.
There are still a few weeks to go before the beans are harvested and sold. In the meantime, we will have to wait patiently before we can offer you, as always, the genuine taste of spring!
An overview of another of our broad bean fields, right next to the farmhouse. The plants are still small, but the strength of their stems gives us hope for a good yield!
For any information or to book your fresh broad beans, please do not hesitate to contact us!