The Consortium for the protection of Genoese Basil PDO on a farmholiday
---
---
---
As you know, our main agricultural production concerns the cultivation of basil. On 27 September, we had a pleasant surprise: Giulio Cataudella, founder of the gCguru communications agency and curator of the social campaigns and image of the Consortium for the Protection of Genoese Basil PDO, and Gianni Bottino, the Consortium's secretary, were our guests.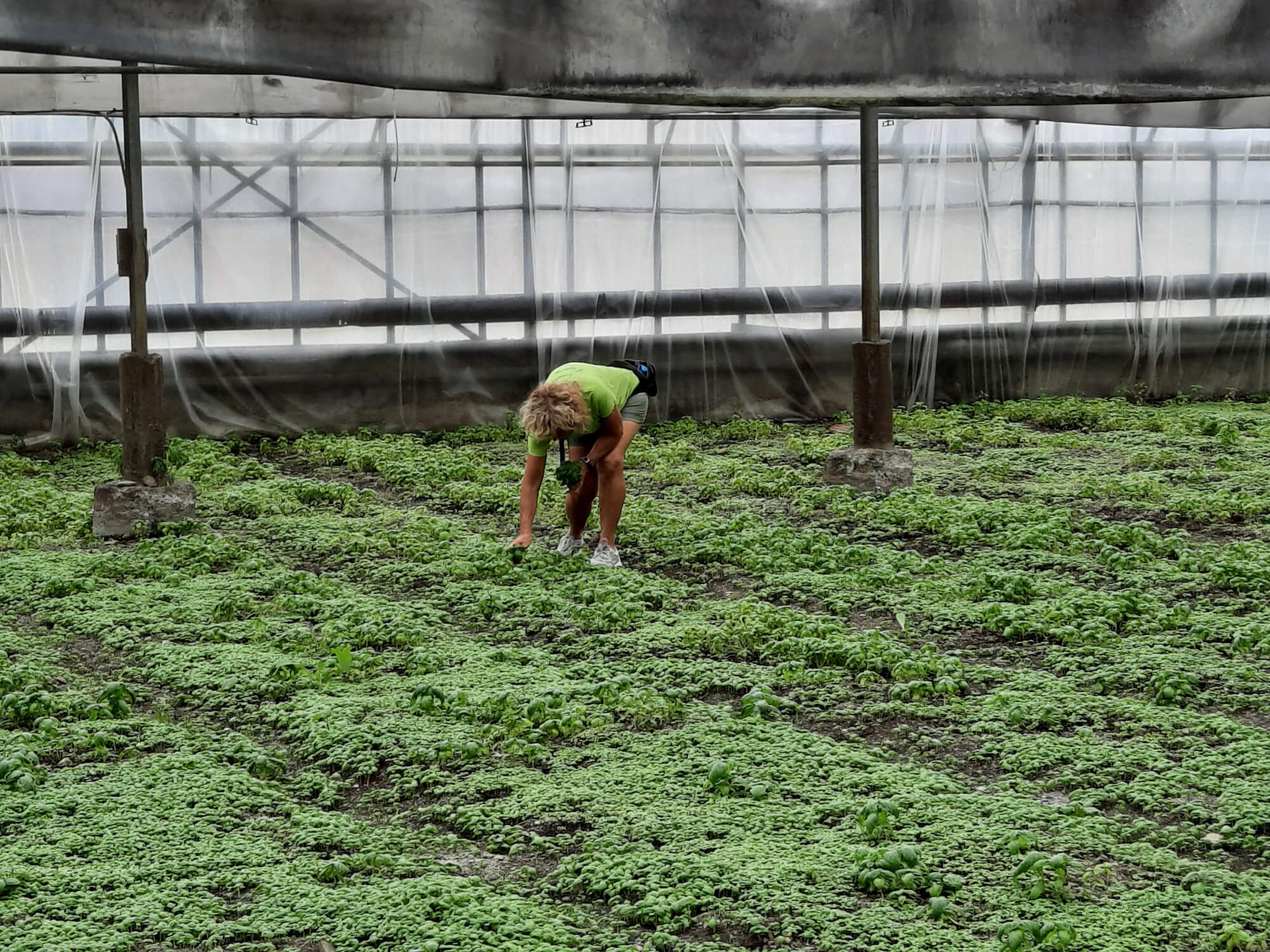 Interview with Nives inside the greenhouse
Imagine the emotion. The organisation responsible for safeguarding the quality of Genoese PDO basil and promoting its image contacted us for an interview. Naturally, we didn't miss the opportunity and proudly showed off our basil greenhouses. But don't think that it was a traditional interview, nor a meeting of specialists. Rather, it was a friendly, informal chat, a back-and-forth discussion about what basil and its cultivation mean to us.
The main protagonist was Nives, who in a few words expressed the concepts behind our work. As you can easily imagine, there was no lack of heart and a certain emotion in talking about what we are most proud of, namely making our land bear fruit, with the cultivation of Genoese PDO basil!
If you have any doubts as to why we decided to grow basil and not corn on the cob, we recommend you watch this video. Basil is not simply agriculture, but much more: it is the scent of our land, the essence of the truest Liguria.
Although brief, the interview was entertaining and above all a good opportunity to make our work known. In fact, it will be a good showcase for future events such as Milano Wine Week, which will be held from 2 to 10 October, and will also be broadcast on social media. Of course, other Ligurian growers were also interviewed, between Celle Ligure, Andora and Albenga, with the aim of promoting the activities of the Consortium for the Protection of Genoese Basil PDO.
In short, we can't wait to see the final result. In the meantime, we enjoy the satisfaction of feeling part of a large community of Ligurian farmers.